WANT TO BUILD ENVY WORTHY ROUND JUICY GLUTES AND SCULPT A LEAN SEXY BODY?
You are in the right place!  Train with Victoria will show you exactly what it takes to crush your fitness goals.
#TWV will dispel glute & strength training myths and fix typical mistakes that hinder results like: Not following a structured program, performing too many exercises, not applying the principles of progressive overload, improper technique, changing up exercises too frequently, poor exercise selection.
Why I Created This Ongoing Monthly Training Program
I'm sick and tired of watching fake trainers take people's money, sell them garbage supplements and mislead them about training. The truth is: There are no shortcuts, RESULTS take time.
BUT! You will get results faster if you train with someone who knows what they are doing. The Train with Victoria monthly program is how I personally train and how I train my clients. (No worries if you're new to lifting, I got you)
ONGOING TRAINING equals consistency and consistency EQUALS RESULTS
If you want to learn how to lift like a boss, build your glutes and sculpt a lean curvy body without all the B.S. This program is for YOU!
What You'll Learn With Your Train With Victoria Membership
How to use the Triple V1 Method to get your stomach flat and your booty phat without standard back squats
Victoria's Official Booty Pump Blueprint to break through plateaus and stagnation so that you are continuously progressing and achieving a juicy glute pump each training session
The 4 key movement patterns to achieve the ultimate glute roundness and shape
Easy Breezy tips and tricks to activate your glutes so that you "feel" your booty "working"
What to do if you have a glute imbalance so you can have a matching set of cheeks
What You'll Get With Your Train With Victoria Membership
5 or 3 Day Ongoing weekly training sessions consisting of
5 Day Program: 3 Lower Body/ 2 Upper Body/ Abs/Core Training Sessions Per Week
3 Day Program: 3 Full Body Training Sessions Per Week
Planned to fit your schedule so you know exactly what exercises to do, to build head turning glutes and sculpt a beautiful feminine physique
Straight to the point, instructional exercise videos so that you can maximize gainz and speed up results
Coaching: all your questions answered and one on one technique feedback from Victoria via our private group so that you will lift like a boss and  people will ask you for fitness advice
A Sisterhood Tribe of like-minded women (you are not alone) via private group to support you to stay dedicated to crush your goals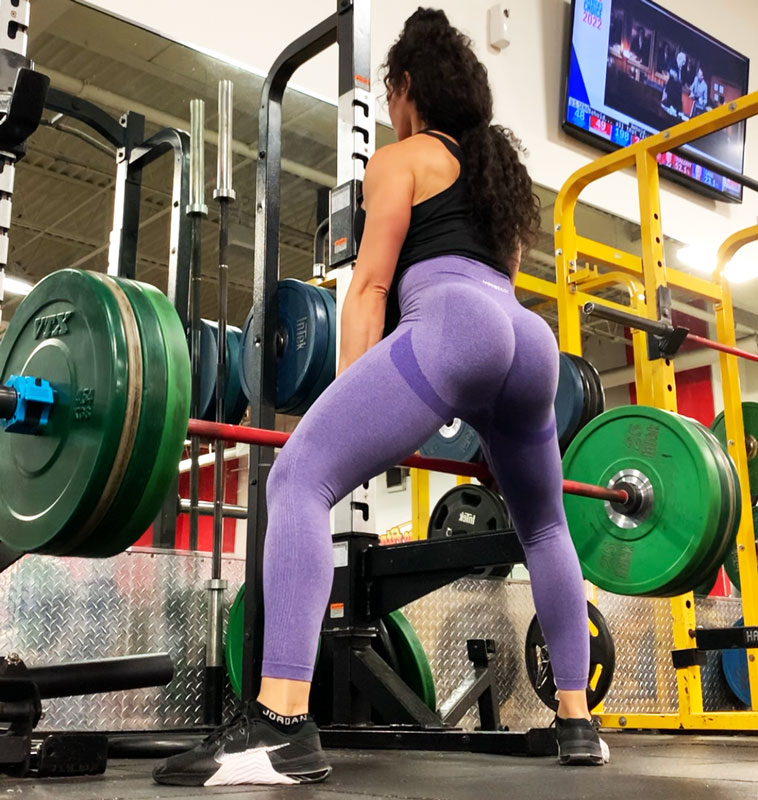 TESTIMONIALS
What My Students Are Saying...
Don't take our word for it, take it from our students. See what they have to say about their experience with Victoria and her Train With Victoria Program.
SUBSCRIPTIONS
Membership Packages
7 days FREE TRIAL, Then Just...
Access to all of Train With Victoria's exclusive weekly uploaded training for 1 month.
7-Day free trial, then just $29.99/Month thereafter. Cancel anytime.
Access to all of Train With Victoria's exclusive weekly uploaded training for 6 months.
7-Day free trial, then just $149.99/Every 6 Months thereafter. Cancel anytime.
Access to all of Train With Victoria's exclusive weekly uploaded training for 12 months.
7-Day free trial, then just $299.99/Every 12 Months thereafter. Cancel anytime.
At age 4, Victoria's love of fitness was evident when she insisted on joining her mom for her Jane Fonda workouts.
Born and raised in Brooklyn, New York Victoria Rose Iovine was a true tomboy (in a girly kinda way) turned college scholarship athlete. She excelled in sports like basketball, softball and loved feeling strong and athletic.
At age 16, Victoria began working out on her own. She felt "at home" in the gym. Her competitive spirit and love for physical activity naturally drew her to a career in fitness.
She became a Certified Personal Trainer and a Dynamic Group Fitness Instructor. In 2005, Victoria graduated from the Institute for Integrative Nutrition as a Certified Holistic Health Coach. She has helped countless people transform their bodies and transition to a healthier way of eating and living.
She has a knack for simplifying fitness and food for her clients so they experience lasting results. Victoria is the ultimate triple threat, a true professional, tough coach with a warm heart.
These days you can find Victoria working with clients, designing programs, training at the gym, in the kitchen, cooking, cleaning, and raising her two daughters along with doing all the other mom "stuff".
She recently extended her family with a Sheepadoodle puppy, Milo.
FAQS
Frequently Asked Questions
If you have any inquiry you can send us an email via the support/contact us tab
Is this solely a glute training program?
No. Train with Victoria is a full body training program that is glute focused
How many days a week is it?
5 days or 3 days, whatever works for you
What does the training split look like?
The 5 Day Option: 3 Lower Body/ 2 Upper Body/ Abs/Core Training Sessions Per Week
The 3 Day Option: 3 Full Body  Training Sessions Per Week
How long is this program?
Train with Victoria is an ongoing monthly program that will support you to get results and build upon your results for as long as you want.
How much time is needed to work out?
Each training session should take about
1 hour to 1 hour 15 minutes. (including a warm up)
Are there meal plans?
No. If you need help with nutrition, message Victoria directly, she'd be happy to help.
I'm flat as a board, can I build a booty?
You cannot change your skeletal anatomical structure but you can grow and shape the glutes with consistency of strength training and nutrition.
How quickly will I see results?
It depends on the person and their current level of fitness. Victoria's clients generally see changes within 2-4 weeks and results in 6-12 weeks.
Is there cardio?
Cardio is not mandatory. However, you can do 15-30  minutes of any cardio of your choice after your training sessions 2-4x a week.
Is this a gym or home program?
Both. Instructional videos will be in a gym setting and will show home variations
What equipment do I need if I'm working out at home?
At least 1 set of dumbbells  (preferably 2) a hip/booty band and a resistance band
Do I need any specific equipment for gym workouts?
Do I have to do (back) squats?
No. That's what makes this program different. We perform movement patterns that are just as beneficial (or more) for glute gainz as squats without squatting.  If you like to squat, that's ok too.
Is there any jumping involved or burpees?
Hell, no. These movements are not optimal for glute gainz
Is this a beginner or advanced program?
Both. Different rep and set schemes will be given to accommodate all levels. Variations of advanced movements will be shown for the Newbie and the Intermediate
FREE MINDSET COACHING WITH ME!
Sign up here to receive 1 email from me per week all on the mindset behind great training. Just type in your name and email address below.